During the 2022 Back2School Activations, we took 866 portraits of students, teachers, and parents who brought Inside Out into the classroom and pasted their images onto their school walls. Each school body interacted with their Action in a unique and engaging way. Throughout our Back2School tour this year, our team conducted workshops, collected student responses, and received written case studies from educators and student participants.
Our Photobooth truck visited 4 counties in New York: Manhattan, Brooklyn, Queens, and upstate New York. Our Team met with dozens of classrooms, ranging from preschool to 12th grade. Participating schools included LaGuardia High School, Greenburgh Central Schools, Jacqueline Kennedy Onassis High School, Brooklyn Community Arts & Media High School, PS Q224, Robert Goddard High School, and Star Academy.
Students at LaGuardia High School interact with the installation at their school.
Inside Out in the Classroom
We led a total of 7 Workshops at 6 schools. Both in person and over video calls, we facilitated conversations about the power of public art and discussed ways students can express themselves through their portraits. At each school, students of all ages talked about what their school means to them, shared how they can uplift one another through their Actions, and encouraged each other to be confident in their photos.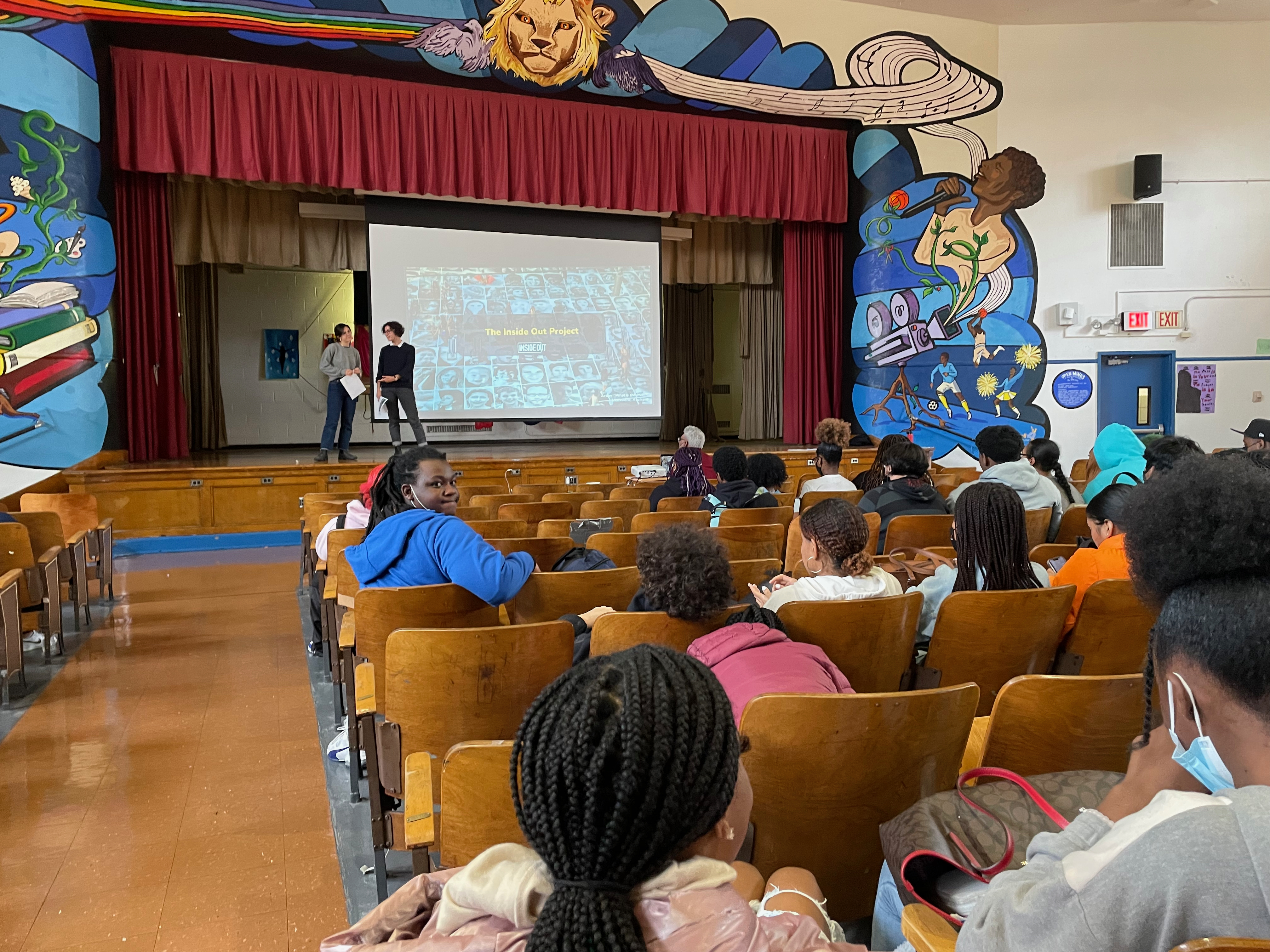 The Inside Out Team giving a workshop to the senior class of Brooklyn Community Arts & Media High School.
We also launched the Inside Out Media Team to further engage students during the Activation. Students were encouraged to participate in a scavenger hunt, document their installation process, collect interviews, and create their own video to share online.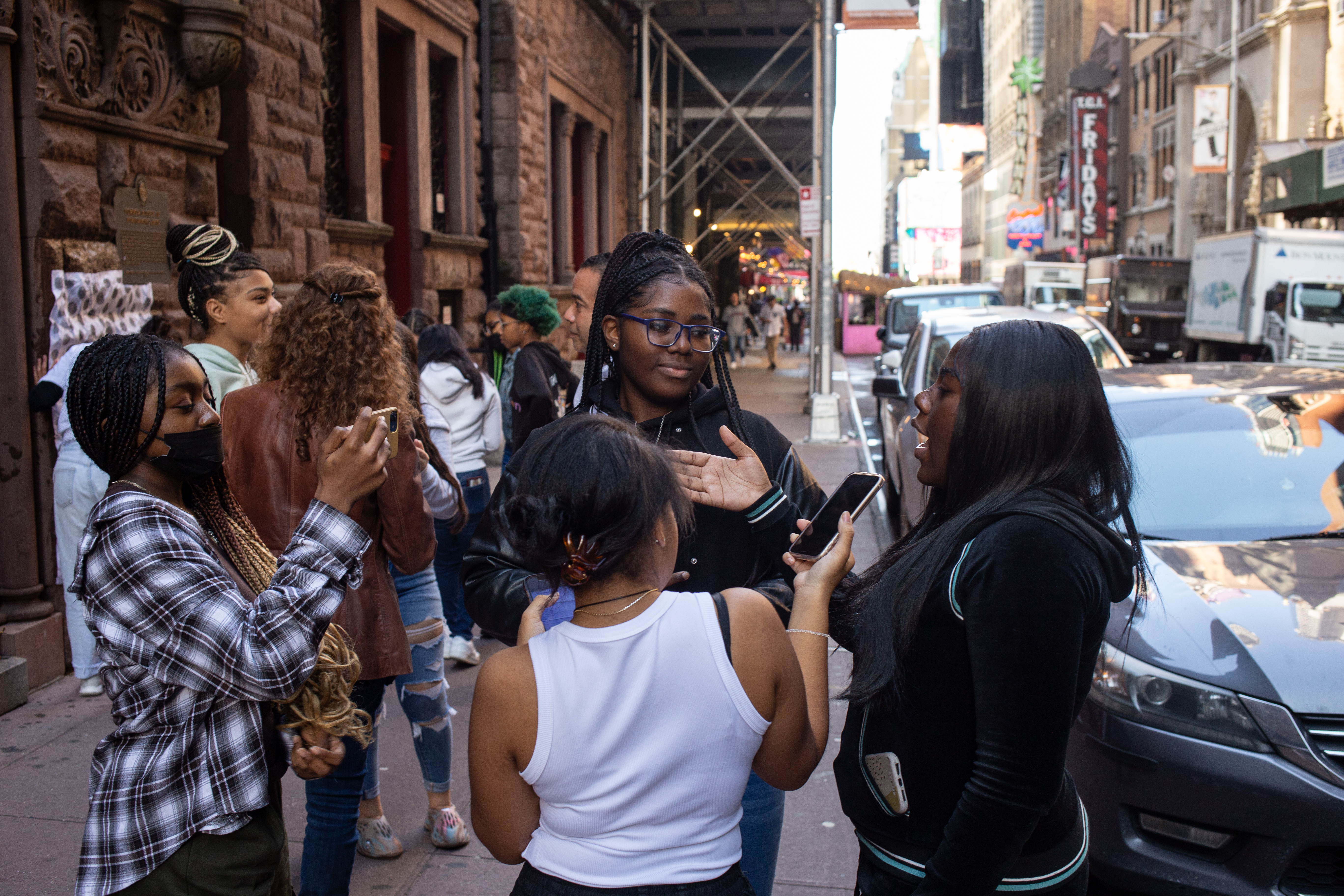 Students at Jacqueline Kennedy Onassis High School interviewing each other during their Activation.
Back2School in Action
Our first Back2School Action this year was at LaGuardia High School, a music and performing arts school in New York City. The installation celebrated the technical theatre students who make the action happen onstage. Through their portraits, the students took the spotlight and shared why art is important to them.
Greenburgh Central Schools was our first-ever student-organized Photobooth! They met with the team to plan and prepare for their Action, and when the day came, they operated the Photobooth truck and pasted their portraits.
At Jacqueline Kennedy Onassis High School all the students involved participated in some way: they made glue, pasted portraits, interviewed each other, completed our survey, and even created TikTok videos!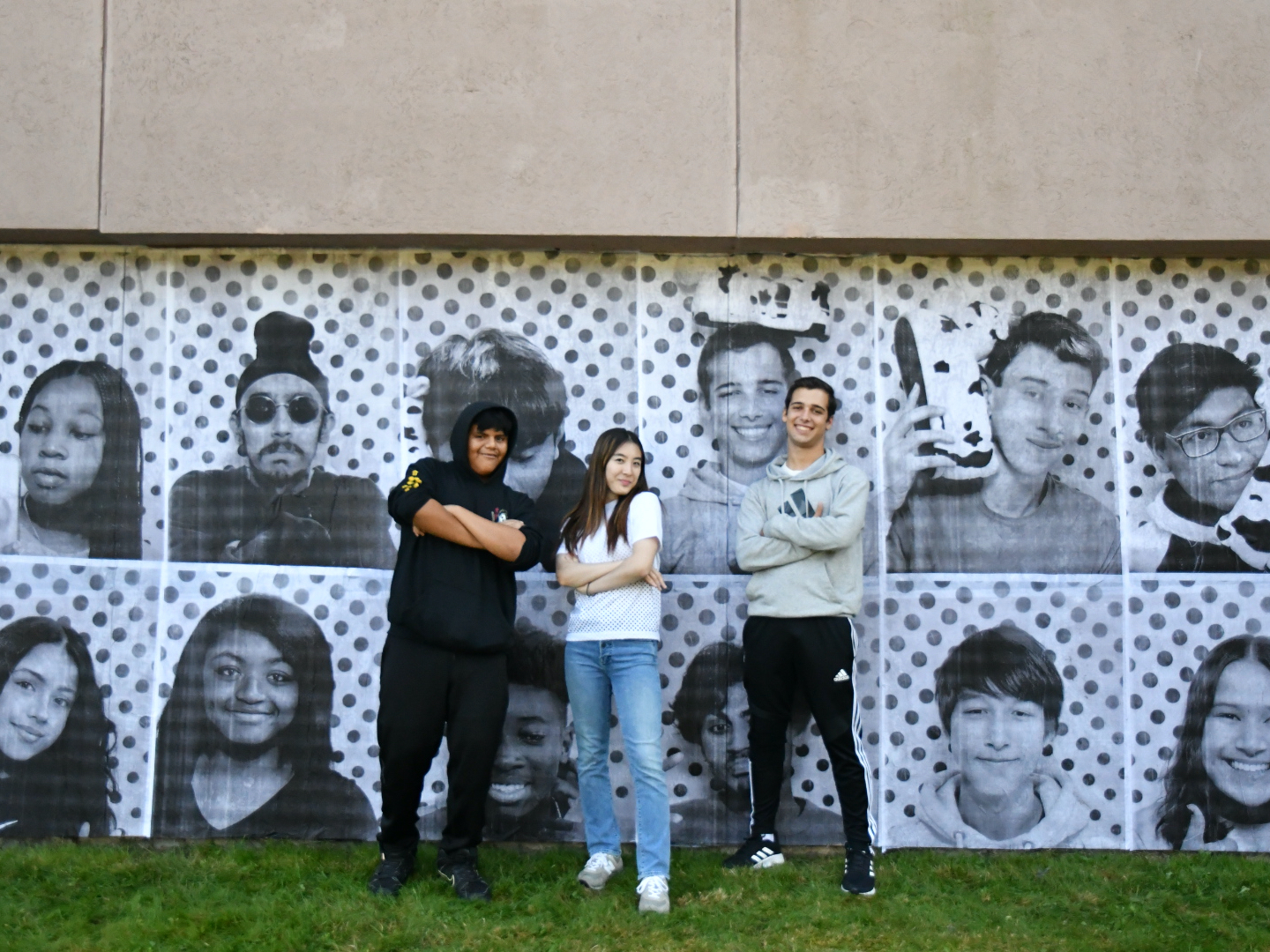 Students posing with their posters at Greenburgh Central Schools.
At Brooklyn Community Arts & Media, seniors were invited to take their portrait to celebrate why they're the "Greatest Of All Time." One student not only conducted interviews with faculty and her peers throughout the entire day but also created and edited her own video!
At P.S. Q224, the school community shared how they stand for equality and unity for all disabilities. Students and teachers alike pasted their portraits to celebrate their community's diversity and individuality. This Activation turned into 4 Group Actions; students and faculty at the other P.S. Q campuses participated by taking their own portraits before our Photobooth arrived and pasting their posters along with the rest!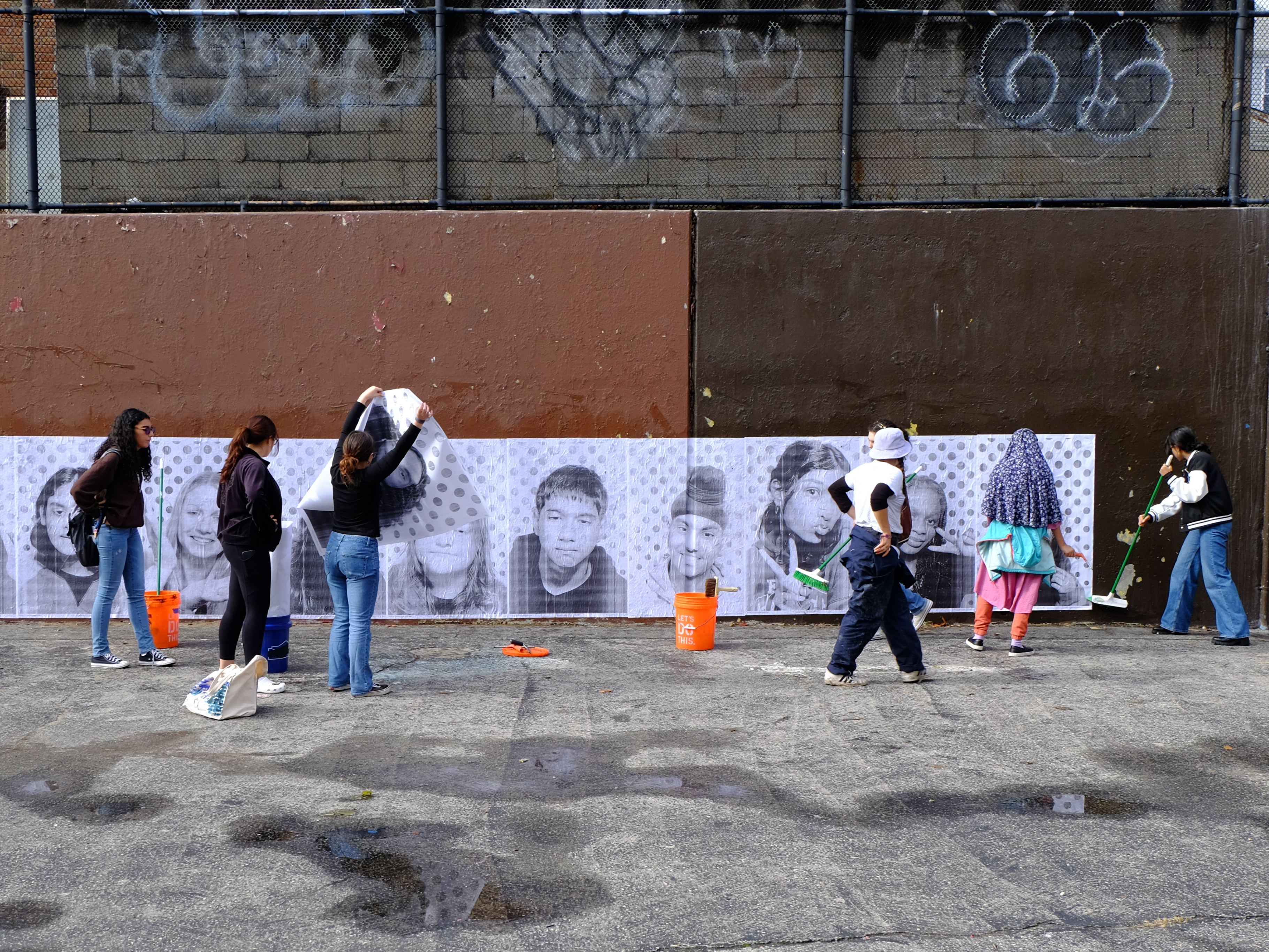 Students at Robert Goddard High School volunteer to paste their posters in their school courtyard.
At Robert Goddard High School, students helped paste their portraits on two long walls that faced one another. One teacher stayed by the truck throughout the day, hyping students up and encouraging them to express themselves. They played music and did the wave, keeping the energy high from start to finish. On their way home after school, students marveled at the beautiful installation they created together.
At STAR Academy, students and teachers encouraged each other to show off their silliest faces and be as expressive as possible in their portraits. Parent volunteers did a great job at helping our Team run the booth, and came back to school the following week to finish pasting. The elementary students jumped with excitement when they saw their portraits print out larger than themselves!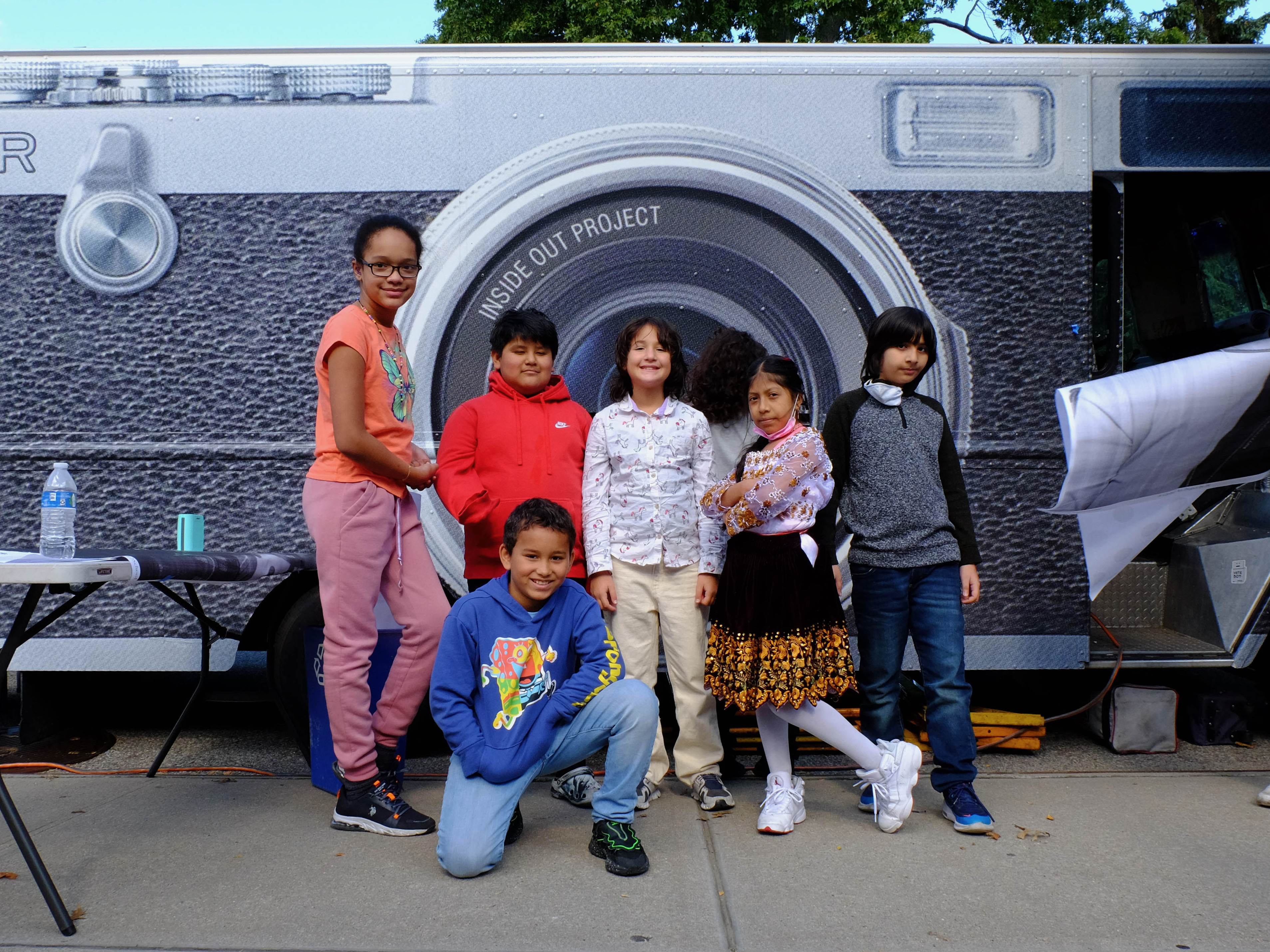 Student Participants at PS Q224 posing in front of our Photobooth Truck.
Student Responses
Our Team created a student survey to gather reflections and feedback directly from students. We gathered over 180 responses from students who shared their experiences after participating in the project and how it made them feel.
When reflecting on their Action, students said that they felt like they were "part of a community," "hit a milestone," and were "contributing to a project with a powerful message behind it."
"Art is a hidden power that isn't often spoken about. With portraits as big as us, we came together as a community with many different emotions and contributed to the Inside Out Project … We realize that JKO High School is as strong as the glue that we use to put the portraits up and that we will remain standing when life throws us challenges."
- Ashley, Student at Jacqueline Kennedy Onassis High School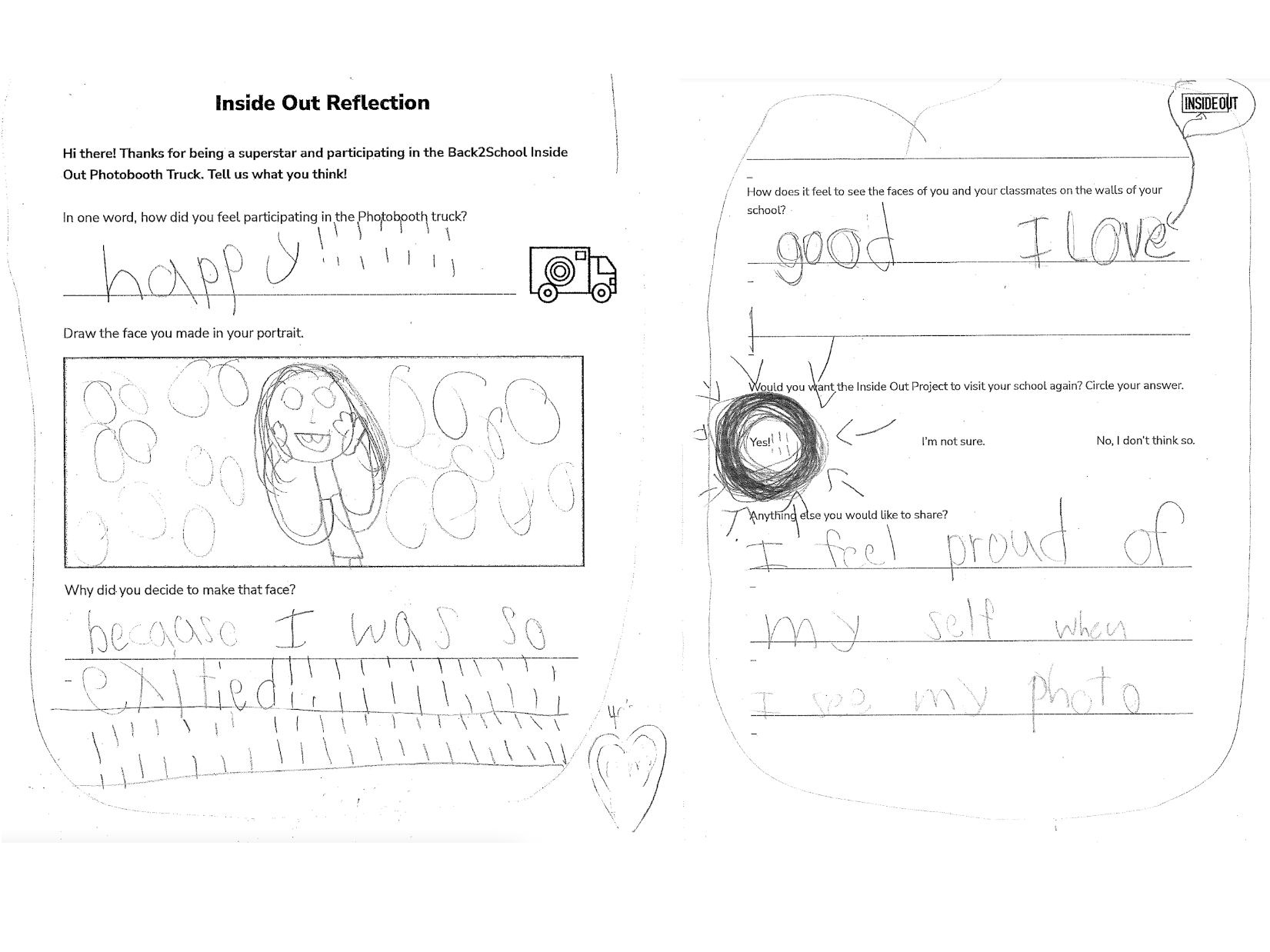 Reflection from an elementary school student at STAR Academy.
Case Studies
We also received Case Studies from STAR Academy, Brooklyn Community Arts & Media, and Jacqueline Kennedy Onassis High School. In their reflections, educators and students alike expressed the lasting impact that the Action had in their school community by transforming their building into a lively work of art.
"The next morning during arrival was THE BEST! Seeing students and families run down the sidewalk trying to find their child's portrait, pointing to a friend or staff member, or just walking down slowly to take in each photograph was powerful."
- Principal Friedman from Star Academy.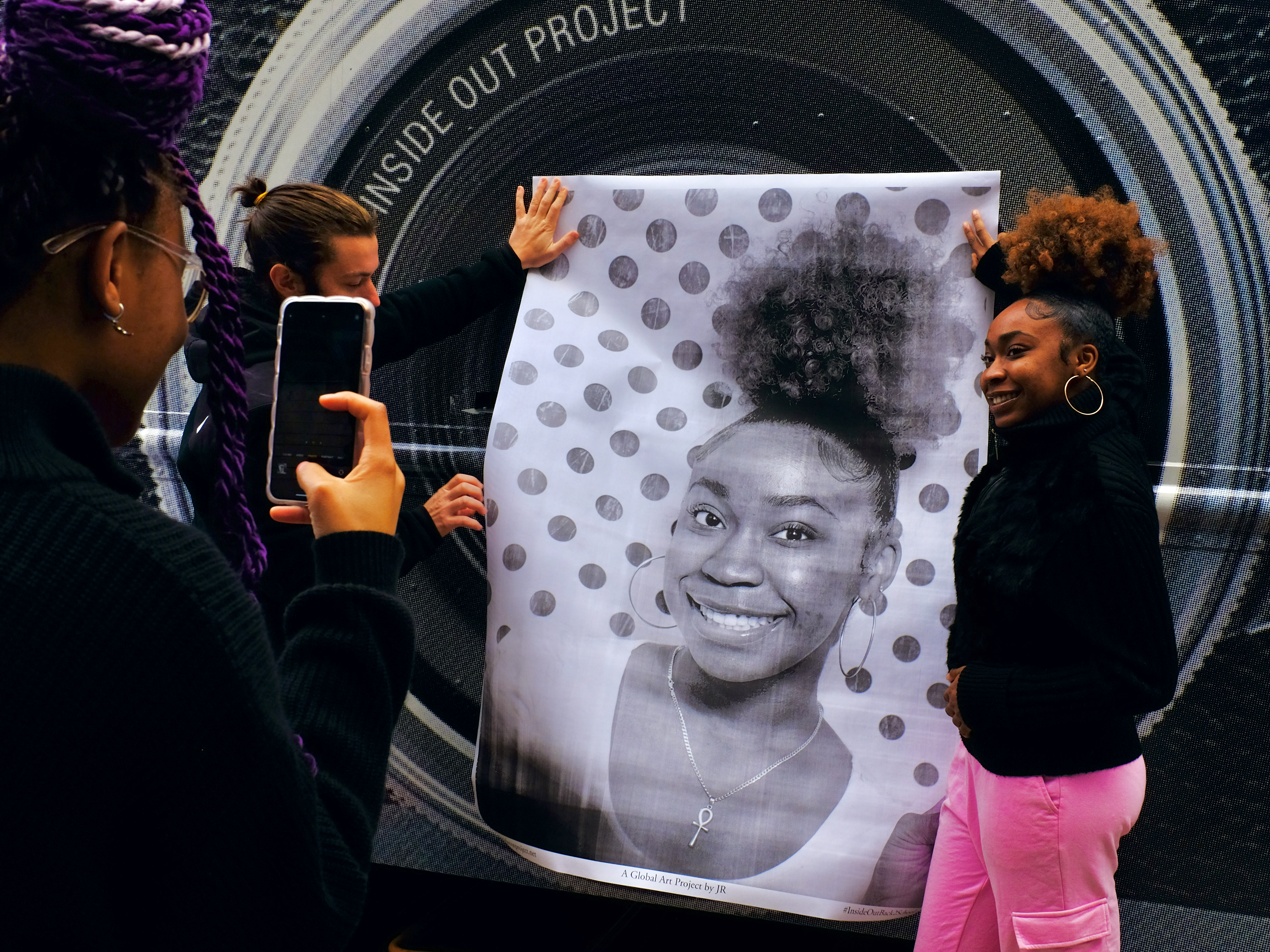 Senior at Brooklyn Community Arts & Media posing next to her portrait.
"The thing that I appreciated the most was that even the students that were hesitant to have their image blown up for the community at large to see, once they felt the encouragement of their fellow classmates and school staff members, I saw their energy pick up and the excitement once their image began to print made it so that it was worth the emailing and scheduling and rescheduling that was done to ensure that they got the most out of the experience."
- Mr. Fritz, teacher at Brooklyn Community Art & Media.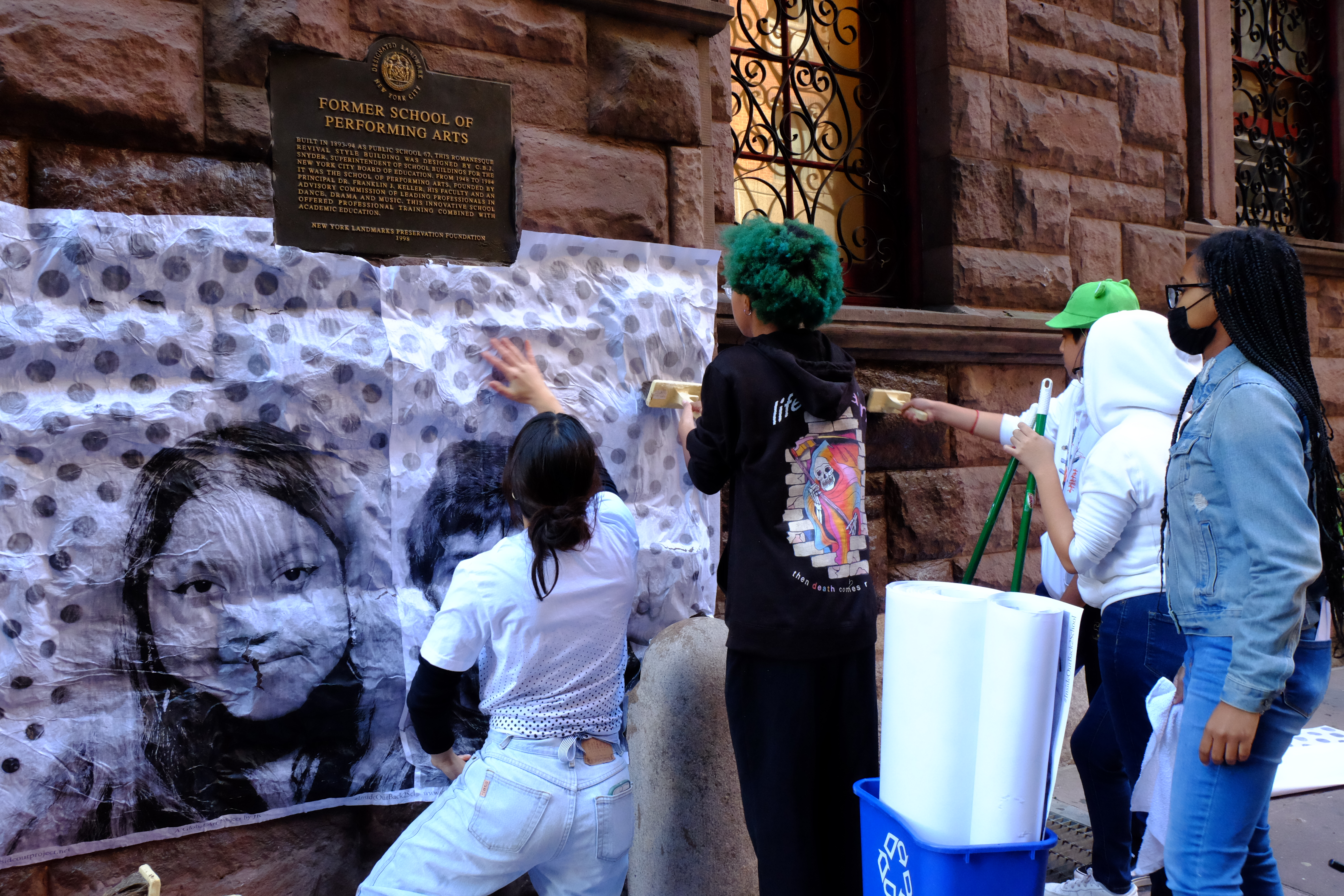 Students at Jacqueline Kennedy Onassis High School paste their portraits in front of their school.
"We wanted to share our message to the world about what our school represents to us. It is a place for us to be ourselves and feel free to express ourselves in any way we can; by the way we dress, act, or speak. By capturing this picture of us expressing ourselves, people can see us as happy students around our school. I was excited to help and see what every one of my fellow classmates did with their photos. I think that they came out great and I'm thrilled that our pictures are still up on our school to this day even with the weather changes. We hope people see that our school is united, diverse, fun, full of many great people, and most importantly that we create what our school is and means to us."
- Keiara, student at Jacqueline Kennedy Onassis High School.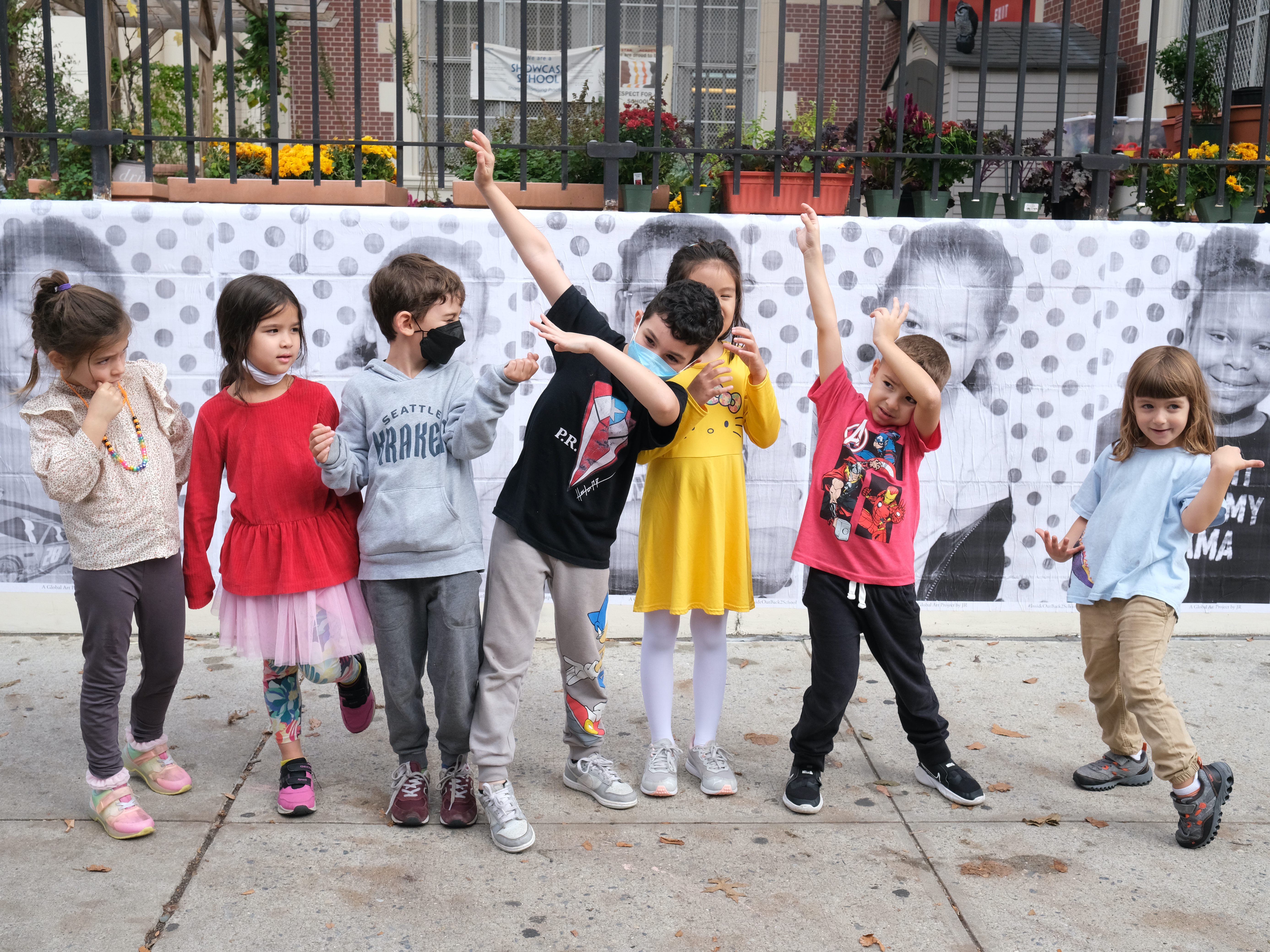 Students at STAR Academy posing in front of their school pasting.
Want to Bring Inside Out to Your School?
Our Team met hundreds of passionate students this year, and we can't wait to bring the Project to dozens more classrooms in the spring! If you're a student, educator, or parent who's interested in participating in the Project, send us an email at education@insideoutproject.net.
Let's turn your school Inside Out!